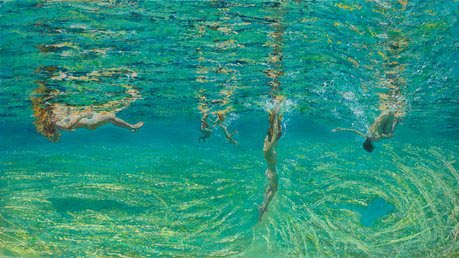 Maria Filopoulou: The Beauty of Water

A current artist of interest at the Belgravia Gallery is Maria Filopoulou. Maria was born in Athens, Greece in 1964. During the years 1984-1988 she studied painting in Paris at the Ecole nationale supérieure des beaux-art.

Maria Filopoulou focuses mainly on water in her paintings. Her paintings such as To the Light and Underwater Swimmers I,II and III are all stunning largely because of her depiction of water. Filopoulou moves away from the 20th century style of painting water such as works by Monet like Water Lillies and modernises it by adding more detail. Her paintings of water are livelier than ever due to her use of vibrant colours and her incorporation of light within the paintings. The Underwater Swimmers series is particularly breath taking, this is because of a combination of her use of bright yellows, greens and blues and the multi-directional lines on the sea floor which create an energetic feeling in the painting.

Another reason why Maria Filopoulou's paintings are so appealing is because of the mimetic appearance of water within the paintings. Maria has achieved naturalism in her paintings which provoke sensations and memories within us of the sea or of the water, this way we relate to her paintings and almost feel submerged in the water ourselves! Maria Filopoulou's art shares a likeness to that of an American artist, Eric Zener, who also creates a very realistic image of water in his paintings which have the same effect on the viewer as Maria's paintings do. However, what sets Maria Filopoulou's art apart from that of an artist like Eric Zener is that she builds on the naturalism in her paintings and essentially idealises the water which makes her work even more striking and almost magical to look at.